世界のみんな、30周年のメッセージありがとう。

日本のスカウトから


---
発団30周年ということで、簡単ではありますが私からもメッセージを送りたいと思います。(解読してね)

10 12,3 11,5 13 5,1 1,12 5,1 5,7 13 9,1 6,9 5,7 9,1 6,9 9,2,1
 5,1 1,2,3 3,5 6,3 13 2,5 6,9 8,1 13 1,12 13 3,2, 9,5 1,2,5 
9,1 7 8,3 5,9 6,7 3,2 12,3 5,3 6,9 1,2,5 8,3 6,9 2,5 3 6,1 7,
逆2 1,9 6,2 2,9 3,5 6,3 11 11,5 13 1,12 3,2
3,2 8,4 1,12 8,3

石川県連盟 金沢第6団
ボーイ隊 隊長 木谷 一人

---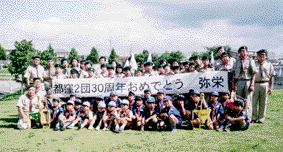 牛久第1団/第5地区/茨城県連盟//長沢浩一さんより
…「わざわざたれ幕を作って記念撮影をしてくれるなんて、感激。スカウトに見せたらびっくりしていました」


---
ボーイスカウト都窪第2団のみなさん,創立30周年おめでとうございます.

スカウティングは日々進歩しています.例えば,インターネットを通じて,
様々な交流や情報発信が世界中で行われています.数年前までは,
考えられなかったことです.ぜひ,スカウトのみなさんは,
新しいことにどんどんチャレンジして,自分達の時代をつくってください.

都窪第2団の一層のご発展をお祈りいたします.弥栄!
----------------------------------------------
旭川第6団・浦和第19団シニアー副長/斉藤 渉
E-mail: sg43312@sacs.sv.saitama-u.ac.jp
FWD-NET: JG8GZC@JG8GZC.13.JNET1.JPN.AS
----------------------------------------------

---
神奈川県連・江南地区
茅ヶ崎第一団のカブ隊でリーダーをして居ります、
半沢と申します。未だ行ったことも会った事もない
他の団の方々や、自然保護をして居られるボランティアの方々と、
お友達になることが出来たら、なんと素晴らしいことでしょう。
そんな夢をインターネットが叶えてくれました。
そして、文字だけではなく、写真やイラスト、音、色々な表現で
他の団の活動を見たり、自分たちの活動を見て貰ったり出来る
そんな良い時代を、私たちは生きているのです。此を利用しないてはありません。
今後の目標として、
都窪さんも含め、私たち現在ホームページを開設している人たちには、
先駆者として、これから開設しようと考えている団、隊、地区等への、
サポートをして頂き、全国の団が参加できたら、素晴らしいなと思います。
そして、ラウンドテーブル等もインターネット上でできたら
良いなあと思います。
みんなで、頑張ってやれば、この輪がもっと大きく広がって行くに違い有りません。

=============================================================
日本ボーイスカウト神奈川連盟
茅ヶ崎第一団
カブ隊 副長補 半沢 弘之
E-MAIL:hi-ro_@mxb.meshnet.or.jp
URL :www2.meshnet.or.jp/~eboshi/
=============================================================

---
東京世田谷3団の野田です。貴団のホームページも拝見させていただきました。
なかなかすばらしい。そして、かなり盛りだくさんですね。参考にさせていただきま
す。いただいたE-Mailは当団のスタッフにも転送してありますので、御返事を出させ
ていただくと思います。今後ともよろしくお願いいたします。
以 上

***************************************************
有 限 会 社 ア ド ヴ ェ ン
野 田 耕 司
E-Mail : kjnd@adoven.co.jp
URL : http://www.adoven.co.jp
***************************************************

---
Congratulations!

         H8.9.吉日

 都窪第2団の皆様、発団30周年誠におめでとうございます。
 このよき日を迎えるには発団依頼団を支えてこられた、団委員長をはじめ指導
者、保護者の皆様の多大なご尽力によるものと感服致します。
 思い起こしますと、30年前当時は都窪郡、国道2号線を岡山から倉敷に向か
うと一面のい草田であったと記憶しております。(申し遅れましたが小生も岡山
出身です。)
 この間スカウトを取りまく環境も大きく変わり、今やインターネットによって、
日本をはじめ世界各国の活動状況が手を取るように見ることができます。
 また、電子メールは世界中の友と瞬時にしてメッセージの交換が出来ます。
 (まさか貴団の30周年記念紙にインターネットを通じてメッセージを送るとは
30年前誰が考えたでしょうか?)
 国際化の時代、これらを有効活用し、World−wideなスカウティングを
展開しようではありませんか。
 今後の貴団の益々の発展と躍進を期待し、「弥栄」を贈ります。

大阪連盟三島地区高槻第1団BS隊
                       隊長  奥谷 寛一
YNH76222@pcvan.or.jp
アマチュア無線:JA4BWG


---
こんにちは、大阪第70団の小林です。
記念誌のための投稿です。

以下は30周年に寄せるメッセージ

私は最近、ボーイ隊に上進した時の班長のことを思い出します。時が経ち、思い出として
美化されているのかも知れませんが...

班長は、他の班があきらめるような大雨の中、ご飯を炊き上げた。
班長は、僕らがペグを忘れたときも、石とマキだけでテントを建てた。
班長は、菊章を胸につけてさっそうとしていた。
班長は、班キャンプで海釣りを経験させてくれた。
班長は、働いた分だけ、頑張った分だけ認めてくれた。
班長は、他の班に負けないよう全力だった。
 とにかく班長は、こわかったけど、あこがれだった。

自分自身はスカウトの時そんな班長だっただろうか。
リーダーとしてそんな班長を育てることが出来ただろうか。
...皆さんの思い出の班長は、どんな班長ですか。
                   
   %%%%%%%%%%%%%%%%%%%%%%%%%%%%%
            小林 潤一
    KOBAYASHI Junichi
    ボーイスカウト大阪第70団 ボーイ隊副長

    Email:k_jun@lib.bekkoame.or.jp
    http://www.bekkoame.or.jp/~k_jun/
   %%%%%%%%%%%%%%%%%%%%%%%%%%%%%

---
 三指

 初めまして、東京連盟渋谷第5団ビーバー隊ASMの島村と申します。
 団30周年おめでとうございます。

 我が渋谷第5団はJR渋谷駅から徒歩約10分ほどにあるカトリック教会内
にあります。機会ありましたらお立ち寄りください。 

 取りあえず今回はご挨拶のみで失礼します。
 今後ますますの団のご発展を祈念いたします。

 弥栄  
------------------------------------------------------
 島村 隆一 (Ryuichi Shimamura) Amateur Radio Station 7L1TTH
 凸版印刷株式会社マルチメディア事業部第二本部
 ボーイスカウト日本連盟東京渋谷第5団ビーバー隊ASM
 E-Mail ryuichi.shimamura@toppan.co.jp .....勤務先
     ryui@ja2.so-net.or.jp ..............自宅
 
---
世界のスカウトから
---
カナダ・ケベック州より
Hi Jiro

Congratulation on your 30th anniversary.... hope this can add to your
project ....

F駘icitation pour votre 30 eme anniversaire ...
If you can understand french ..

Have a visit to our sccccouting page at http://www.titan.qc.ca/scouts

and work your way to our summer camp picture page

Best whises from our part of the world ....

Meilleurs voeux du Qubec

Yours In Scouting
--
Michel Presseau
Scoutmaster / Woodbadge Trainer / Badge trader
Arrowhead Scout Troop / Chateauguay District / Quebec
Scouts Canada Email: admin@titan.qc.ca

---
オランダより
Hello and congratulations on your troop anniversary. Unfortunately I
don't have a lot of time at the moment to tell you about scouting in our
country, but if you look at my www pages, you might get a reasonable
impression.

(for some pictures of our cub scout camp last summer, go to
http://scout.strw.leidenuniv.nl/mohicanen/comm96/ . The text is in
Dutch, but basically the pictures speak for themselves)

David
--
_/_/_/_/ _/_/_/ David Jansen jansen@strw.leidenuniv.nl
_/ _/ _/ Leiden Observatory ( Sterrewacht Leiden )
_/ _/ _/ P.O.Box 9513, 2300 RA Leiden, The Netherlands
_/_/_/_/ _/_/_/ Phone: (31) 71 5275810 Fax: (31) 71 5275819
WWW: http://scout.strw.leidenuniv.nl/
or: http://nl.scout.net/

---
カナダ・トロント68団より
Hi Jiro:

Greetings from the 68th.Toronto Scout Groups of Scouts Canada.

Congradulations on your 30th. anniversary. I hope your Group has a
wonderful time celebrating!

Keep up the good work.

Yours In Scouting,

Eva Robinson, Akela, 68th. Toronto Wolf Cub Pack
John Robinson, Venturer Advisor, 68th. Toronto Venturer Company.

---
デンマークより
A warm congratulation to your anniversary from Denmark, one of the three
old viking contries in Northern Europe.

My group was established in 1910 or 1911, noone knows for sure anymore. But
we like to go camping and like to work with wood - we often build bridges
over small creeks, platforms with tents on them and elevated fireplaces.

When I was a patrol leader, I had a scout with a Japanese mother maried to
the Danish father. He was very bright, had great humor and advanced to
become a doctor in physics in CERN (France), he is now famous for his work
with neutron beams used to analyse materials.

I think that the only Danish products you may find in Japan are from our
agriculture, mainly pork and beef.


All the best,

Niels Kristian Jensen,
Division Chief
The Danish Scout and Guide association
Denmark

---
アメリカQuinnipiacのコミッショナーより
Hi:

I read your post on the South African Scouting Home Page listing for people
looking for Pen-Pals in Scouting. I read that you are interested in making
contacts for your magazine, so if you'll tell me more about what you need,
I'll try to be of help.

I am a Commissioner (Counselor to Scoutmasters) in the Quinnipiac Council in
the Boy Scouts of America (United States of America). The Quinnipiac Council
is in South/Central Connecticut, centered in the New Haven, Connecticut area.

Since I'm an Accountant, with a lot of time on my hands over the summer, I
volunteer as a practically full-time staff person at out Boy Scout summer
camp, Camp Sequassen, which is in upstate Connecticut (Winsted, CT), not too
far from the Connecticut/Massachusetts/New York State borders. I have worked
for the past several years in the summer and over the regular year with our
Council's efforts to make scouting more vital in the City's minority,
inner-city areas. Since I'm Black and Hispanic (Dominican) mixed myself,
making sure Scouting does not just become a suburban middle-class movement in
the Quinnipiac Council has always interested me.

A couple of the Scout units I work with are interested in establishing a
pen-pal relationship with Scouts from other parts of the world, and perhaps
even visiting other Scout camps this coming summer or hosting Scouts/units
from other parts of the world in our Scout camp.

I'm sure you have gotten many responses to your post for pen-pals, but I hope
this one interests you enough to get back to me. If not, good luck with your
other responses.

Yours In Scouting (and Peace Out!),

Chuck Allen

---
イギリスより
Greetings to the 2nd Tsukubo Scout Group from ScoutBase UK, the Web Site
for Scouting in the UK.

30 years is a long time in history during which small boys and girls
grow up into young men and women. As you look around the world and just
consider how many Presidents, Leaders and famous people were once Scouts
or Guides.

This largest Youth Movement in the World exists today in all but a
handful of countries. It is a movement larger in countries represented
than the UNITED NATIONS or the Olympic Games.

It takes on many styles and cares for many types of children of
different faithes, backgrounds and wealth but still remains true to the
ideals carefully planned by Lord Baden Powell of Gilwell.

As a world wide movement it is fitting that talking to each other
through the INTERNET and the World Wide Web is now easier than it has
every been. We can all work together for World Peace and Pray together
for the peoples of the world facing troubles today.

God Bless you all and good luck in your next 30 years.

Once a Scout ALWAYS a Scout.

Chris Wilkinson
Group Secretary
ScoutBase UK
--
This mail from Chris Wilkinson, one of the ScoutBase UK Team
http://www.scoutbase.org.uk/ - chris@scout.demon.co.uk
The Web Site for Scouting in the UK

---
アメリカ・ダコタ1730団より
Hello Jiro Tsuboi in Okayama Japan! I am a Cadette Girl Scout leader and
adviser of Troop 1730, Dakota Unit, in Eagan Minnesota, USA. We all wish you
and your Scouts many heart warm wishes for future happiness. Congratulations
on thirty years of Scouting!!
Words of wisdom to share: 'Never let the odds keep you from pursuing what
you know in your heart you were meant to do. Remeber that nothing important
was ever achieved without someone's taking a chance.'

Laurie Anderson
ANDERSLL@SV.ISD196.K12.MN.US

---
ホンコン・カオルーン19団より
Hi,

Greetings from 19th Kowloon Scout Group, Hong Kong.

Best wishes to all members of 2nd Tsukubo Scout Group on your 30th
Anniversary.
Keep Going............
Our Group was found since 1960 in Hong Kong.

Regards,

David T. W. Lai
Group Scout Leader
19th Kowloon Scout Group
Hong Kong.
23/9/1996.


---
南アフリカより
Dear Jiro Tsuboi

Congratulations on achieving an important milestone in your Scouting movement.
The First Reservoir Hills Scout Group from South Africa wishes you and
your membership everything of the very best on your 30th Anniversary
celebrations.May your Scout Group grow from strength to strength.

Yours Sincerely

PRISHEN NAIDOO

Patrol Leader of the First Reservoir Hills Scout Group.

---
どこかよく分からない所(誰か教えて)
Subject:
Message to the celebration
Date:
Wed, 25 Sep 1996 17:30:17 +0200 (MET DST)
From:
Magnus Hakansson <z94magh@mtek.chalmers.se>
To:
jiro@tsuboi.co.jp
Hello!

Peace can only be created by people knowing each other. Make
international friends and be peaceful!
--
mvh mh
Magnus Haakansson | Teknolog
z94magh@mtek.chalmers.se | Knopslagare
031 - 20 66 24 | Scout Cyklist
http://www.mtek.chalmers.se/%7Ez94magh/ | Frivolitetsfantast
In the future, everybody will be famous for 15 min... ehh, 15 MB!

---
ニューヨークの子供たちから

hello, here's a song:
tune: "till we meet Again" (this is the song that it is sung to)

'Round the campfire, 'neath the stars so bright
We have met in comradeship tonight.
'Round about the whispering trees,
Guard our golden memories,
And so before we close our eyes in sleep,
Let us pledge each other that we'll keep,
Our scouting friendships strong and deep,
'Til we meet again.

We wish you good luck and happiness.
>From the Wolf Den 10 in Brooklyn New York.
WE would like to hear about your celebration!
From:
soren roi, age 7
christopher woll age 8
noah k.chasek-macfoy, age7
Dylan Tucker age 6
Alex James age 7

---
スウェーデンより

Dear Mr.Tsuboi,

I am a scout master for the agegroup we here in Sweden call senior scouts (
15 to 18 years ).
I will be visiting Japan mid November ( dates are not fixed yet ).
I am employed by a Japanese company ( FOSTEX ) situated west of Tokyo (
Akishima ), so my trip is busines only.
However seeing your message for your 30th anniversiary, I thougt there would
interesting for you to meet a scout from around the world.
There is the possibility that I will stay over an weekend, ( maybe to
compensate for Jet-lag ) and in such a case it would be nice to meet some of
your boy scouts / masters to improve the communication worldwide.

I have no idea of where Okayama is.
My knowledge of Japan geography is limited yet, so I have to rely on my
busines associates.

If you consider my visit to be an interesting proposition, please let me
know before Oct 5th, since I have to finalize my agenda.

Scout Honors

Hans Lundholm
hans.lundholm@mailbox.swipnet.se

---
リターン